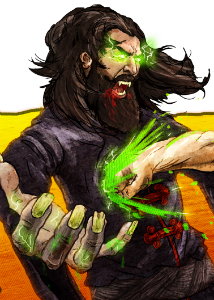 Ryan Mellon, 3/10/16
Straight to VHS has never gone longer without a public update, and there's a lot of NEW to go over. First off, let's mention some of the stuff going on surrounding the game. There are now two names accredited with "Game Designer" in the book. In truth, Straight to VHS has received input and ideas from one Kirsten Hostbjor since the very beginning, and her level of involvement has only been rising. In short, it was past due to ditch the pretense that this was strictly a sole proprietorship. Also, you might notice that I've dropped the "M. M." moniker and am letting the full name fly.
We've taken the step of forming an honest to goodness company, Lost Cat Games. We've also set up this new website. A bit slicker than the old digs, yes?
In our bid for professionalism, we've also removed the artwork from the PDF that had been basically pilfered from old movie posters. It's not all bad news on the art front though. Three original art works have now been added to the PDF and more will join them. Still, filling the book with art is going to be a long-term goal that we just can't possibly afford as of now.
Some might recall, I've long-talked of starting a widespread promotional push with the release of version 0.3. This isn't going to be strictly accurate, but damn close. We're releasing this update now, just before a brief vacation (not even a full week). We wanna let the changes sink in a bit and get some feedback. Version 0.3.01 will be quick to follow and will coincide with outreach to the larger gaming community. Please wish us well, but pretty pretty please get in touch with your feedback on the game in its current state. We need your thoughts!
(yesss, feeeed us your thoughtsss...)
So, here's
this
thing:
Straight to VHS version 0.3
The change log is as follows:
GAME-WIDE CHANGES
Players get 5 AP on their turns, but movement up to your speed now costs 0 AP.

Players can spend 3 AP to "Haul Ass" which allows them to move up to their speed a second time.

Script Changes are still earned in two steps, but they aren't both random die rolls. You're only relying on a single 1 or 20 now, the other step is showing weakness. This new mechanic points the players towards the cinematic tradition of highlighting their characters' flaws.
The "Grid Rules" section has morphed into the "Optional Rules" section and now includes the optional Direction Notes rule.

Death now occurs at -10 - your number of montages. So if you have had three montages, you'd die at -13. It's slightly more complex, but facilitates more long-term play.
The Epic Dice section has some new words of advice and the limit on epic dice tokens has been raised to five.

"Epics", those subjects with which characters get an automatic epic die on their rolls... I've changed the name back to "Fortes". Between epic dice, epics and epic dice tokens, something needed to give.

The "How to Play" section has been re-organized. In related news...

The "How to Play...Like a Badass" section has been born.

Added a short new section to the How to Play section called "Gaining the Upper Hand". In short, it explains that characters in naturally advantageous situations get advantages. It also introduces the concept of a "Break Check".

Did anyone ever actually use the "bloopers grow when ignored" thing that the rulebook text suggested? I know I never did. It's gone.

Added a detailed example of reflavoring a trope.
Significantly cleaned up the Bad Guys' and Villains' information blocks.
Most (all?!) of the Bad Guys have been improved. Villains are due for a little extra love on the next update though.

Tweaked the way the "reload number" on ranged weapons is handled by the book.

"Pull it Together" added to the Action Guide section, also mentioned in the lead-up to the "Bad Guys" section.

The Taunt action now costs 3 AP. At 2 AP it was too powerful.

Added info and examples for improvised weapons in the item section. This was badly needed.

Added a bunch of new weapons.

Added "Flashlight", "Toolkit" and "Walkie Talkies" to the item list. Added a couple words to the "Night Vision Goggles" entry to distinguish from the less awesome "Flashlight".

In the"Setting up the Movie" section, I added a detailed example of the sort of notes a Director might want to make about the player characters.

Updated character sheet, with some more spacious cinematic action boxes, updated terminology, a new script change section, new second-page prompts, generally cleaner look.

So many things! Lesse, added a roll-off rule for when grabbing an opponent with the same STR as you. Stuff like that. Edge cases and what not. You'll barely notice some of this stuff, but the game is getting tightened up in lots of little ways.
TROPE AND PERK SPECIFIC CHANGES
Sorry, there is no way we've got a complete change log for this. There is a mountain of minor changes that would be deeply, uninteresting to read, and time-consuming to catalog (this stat bonus got raised, that one lowered. The blooper is named differently but mostly similar, this AP cost got tweaked, and this thing now specifies "until end of scene"... that sorta stuff.) That said, let's talk major stuff.
The Wrestler trope has entered the ring!
Added the following perks: "No Body, No Death", "Noooooo!", "Ricochet", and "Small but Fierce".

Every trope now offers a blooper and/or a unique method of showing weakness.
A bunch of minor changes meant to better facilitate long campaigns with characters that undergo numerous montages.
The Gangster trope is hugely different.
The "Sophisticated" trope now clarifies that they can only give two facts about a NEW character.

Cyborg, Famous, Gangster, Paid Sponsor, Police Cop, Road Rash, Sniper and Wheelman have all received entirely new cinematic actions.
Many others have had changes made to their cinematic actions or had some sort of feature become a cinematic action.


Happy gaming! I hope you'll stick around to see what's next!